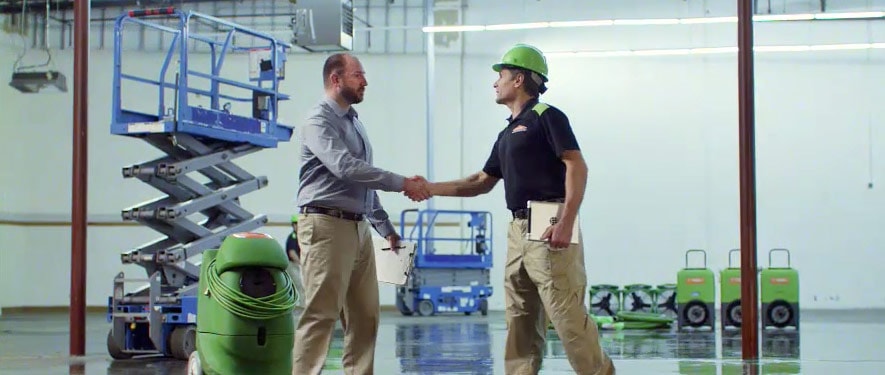 Commercial Services
Our Restoration Process for Southern California Commercial Establishments
As with our residential job sites, we apply all the same principles in our restoration services on large commercial losses. Our team holds true to the core values of SERVPRO by keeping customers up to date, completing quality work in a timely manner, and protecting any contents that stay on site during an unexpected disaster.
Our Customers Are Always Up To Date
Through our online proprietary systems, we build out a job scope which is synced in real time to our servers at HQ. When a complete scope of restoration tasks is built, all involved in the event are aware of what is happening at the job site.
Quality Work in a Timely Manner
One of our core values is not only to restore the damaged area, but ensure improvements are made so that the structure can be sustained long term. Especially in commercial environments, we recognize getting operations back up to speed as quick as possible is crucial. For this reason our teams have developed clear communication skills during these high-pressure situations to provide solutions during the restoration process.
In line with timely services, moving contents off-site can cause a significant delay in effective restoration. Thus, field technicians are trained and come equipped with kits to ensure full protection of what is staying on-site during the services we perform.
Small Office Buildings
Large Office/High-Rise Office Buildings
Apartment Buildings
Restaurants
Hotel/Motels
Small Retail Stores
Large Retail/Big-Box Stores
High-Rise Residential
Manufacturing & Industrial
Government/Military
Have Questions? Call Today – (562) 916-7646
Commercial Building Restoration Services
SERVPRO of Cerritos / Hawaiian Gardens is available 24 hours a day to restore your Cerritos property and get you back to business. We have the expertise, equipment, and highly trained personnel to handle your commercial water, fire, or mold damage. We can also access the resources of our national network of 2170 Franchises to handle large commercial projects and major storm events. Learn more about our commercial restoration services:
Commercial Building Cleaning Services
SERVPRO of Cerritos / Hawaiian Gardens offers professional cleaning and preventative maintenance for your carpet and upholstery that keeps your property looking its best. Our cleaning system offers a number of specialized cleaning options to match your needs. Whether your business needs a deep cleaning or a persistent odor removed, you can trust SERVPRO of Cerritos / Hawaiian Gardens. Learn more about our commercial cleaning services: